Blog Home
Bar Cart Styling 101: Bring Happy Hour Home!
Happy hours sure have changed this year! Staying home and self-quarantine has helped us find new and creative ways to indulge in some of our favorite activities. Whether that be home workouts, re-creating your favorite restaurant dishes, or shaking up your own happy hour cocktails. Since your Acero Estrella Commons apartment has likely transformed into your new favorite "bar", we thought now would be a great time to get crafty with your very own bar cart! Grab a cocktail and a notebook; this is bar cart styling 101.
Find the Perfect Bar Cart
It all starts with the cart. The bones of your beautiful bar cart are just as important as the delicious beverages that will come from it! The Goodyear Pottery Barn Outlet is less than 10 minutes from Acero Estrella Commons and is sure to have a variety of bar carts for you to choose from. Even better? You can browse them online, here and have it delivered right to your door. While picking your cart, here are a few things to consider. 1.) Color and style. Take a look around your apartment and see what colors, textures and tones you have most. Try to match your cart to what you already have! 2.) The theme of your cart. Are you planning on having stemmed glasses? Wine bottles? Determine what you'll likely have on the cart, and find one that fits that theme. 3.) Size! Pay extra attention to the dimensions of the cart that catches your eye to ensure it will look nice wherever you decide to have it in your apartment.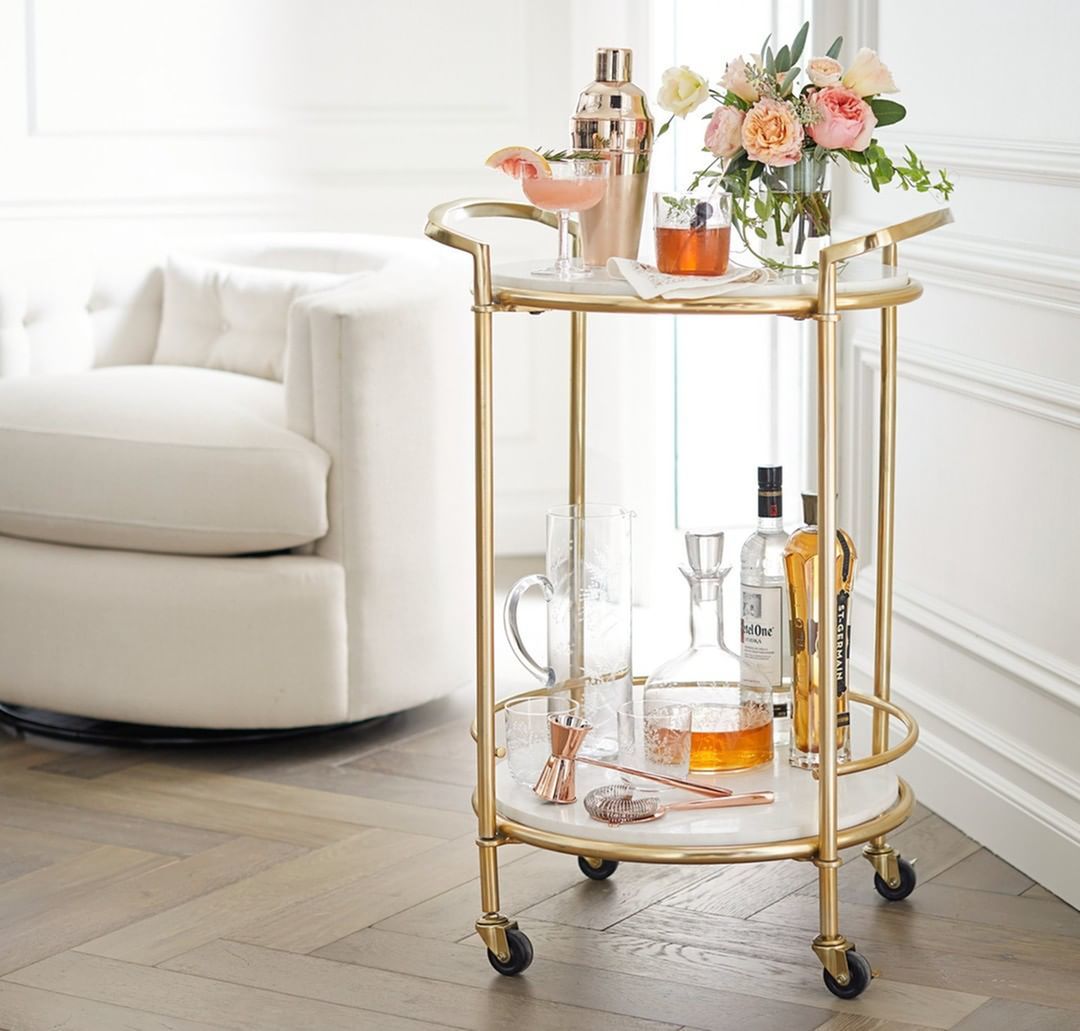 (Photo by @PotteryBarn)

Fill and Assemble Your Bar
You've got your cart, now it's time to fill it with the ingredients of your favorite drinks! Bevmo!, Total Wine and More, and the We Olive & Wine Bar are right up the street from your apartment and have more spirits, liquors, wines and mixers than you could ever imagine. The easiest way to prevent feeling overwhelmed by what to get for your cart is to, once again, create a theme. What drinks do you favor when out for happy hour? Do you like clear spirits or are you a whiskey person? Decide what you enjoy the most, the ingredients that go into those drinks, and make a list before you head out. If you like whiskey sours, find what goes into those, and add those ingredients to the list. Maybe margaritas are your love language; if that's the case, you won't want to forget the sweet and sour.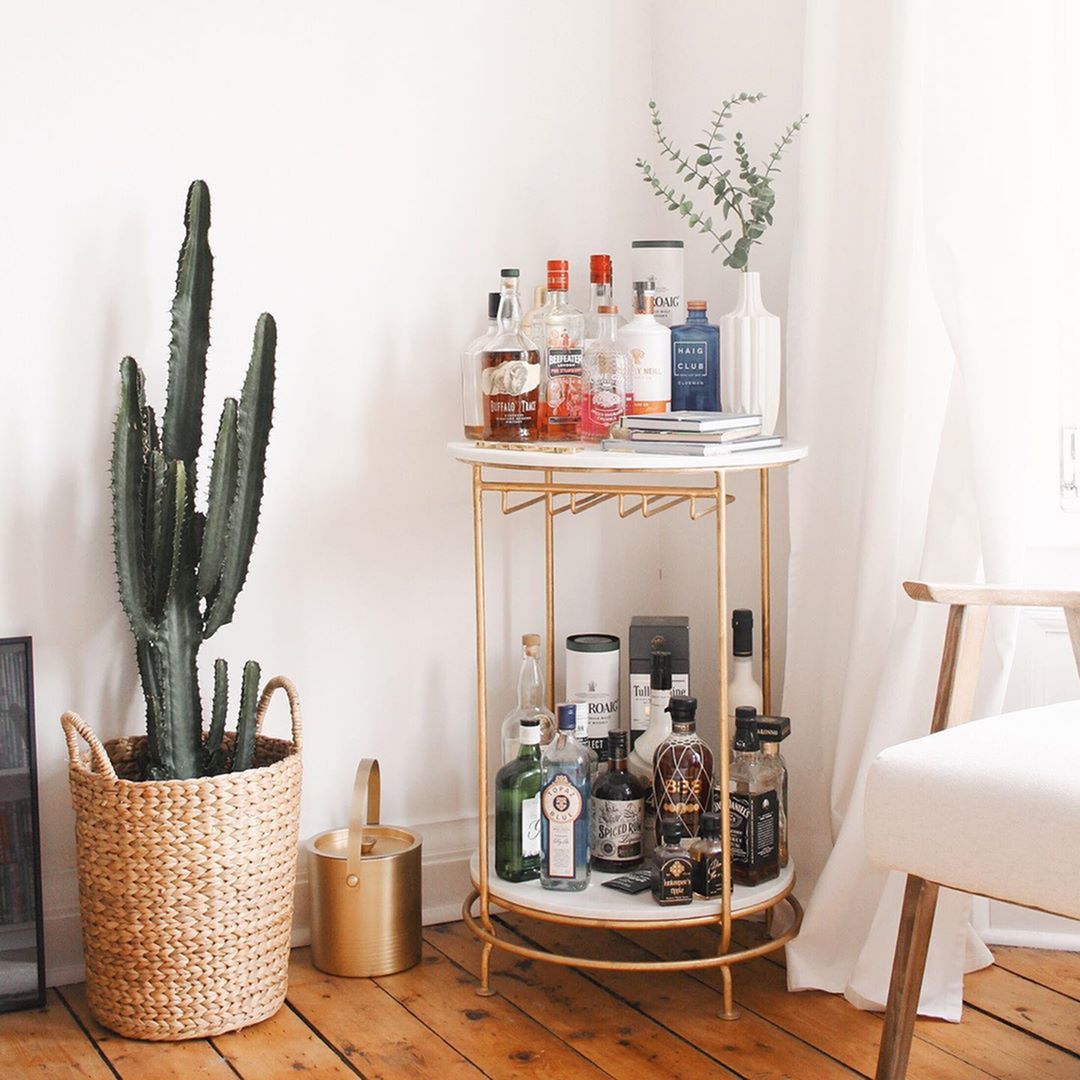 (Photo by @mariamanuscript)


Add Glassware and Decor
You're almost done! You've got the cart, you've got your ingredients, now it's time to add a little flare. A few things your bar cart should have: a cocktail shaker, a stir stick, four or more of your favorite cocktail glasses (we recommend having a variety of sizes and styles to match different drink types), straws (metal or glass are a great way to reduce your single-use plastic waste!) and general decor. A nice touch for your bar cart might include a cocktail recipe book, a couple of candles, or even fresh flowers. A splash of decor paired with your drinking utensils is the perfect recipe for a well-rounded bar cart.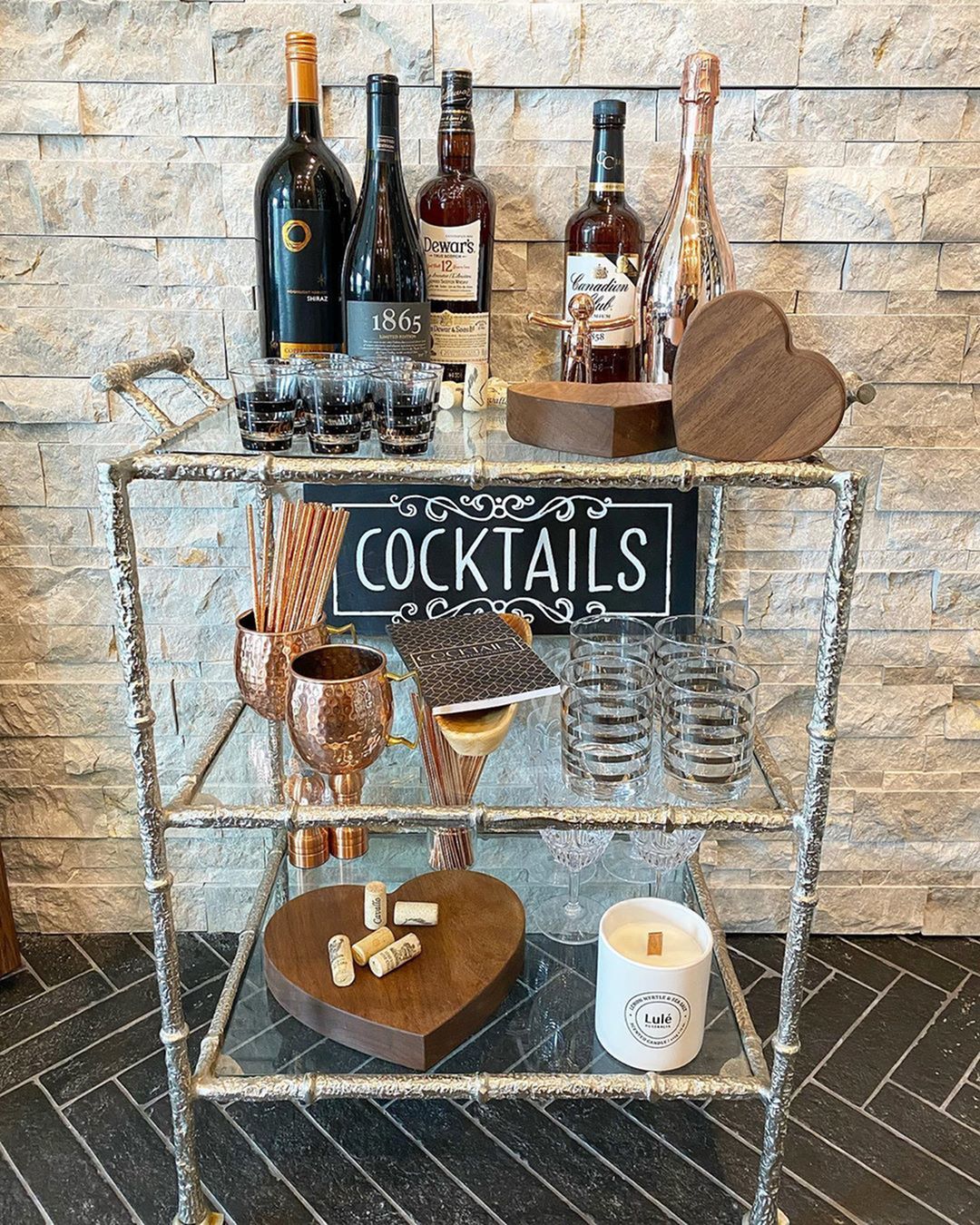 (Photo by @Blondebutterflyhome)
Sounds easy enough, right? We hope you found this bar cart styling guide helpful. While this is a general overview of how you might style your bar cart, remember to get creative with it and add your own unique changes! Tag Acero Estrella Commons in your final bar cart photos on Facebook and Instagram, and be sure to keep following the blog here for more posts like this one. Cheers!